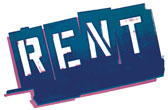 As you know, I've been auditioning for Rent these past few days. It's been pretty much cast since Tuesday – it's been a bit of a long roundabout way of saying "we're not sure who we want yet, but we know it's not you" since then. Either way, here are my predictions on casting alongside the actual casting.
Angel ? ? ??? Nick
Benny?? ?? ? Mark
Collins ? ? ? JJ Dale
Joanne ?? ? Kate J Emma
Mark ? ? ? ? Dale Matt (the director)
Maureen? Georgina
Mimi???????? Caroline
Roger ? ? ?? Justin
Chorus???? Everyone else
Edit: The director has cast himself in the principal role of Mark. Not sure how I feel about this. Will comment further later.
Later edit: I couldn't work exactly how I felt about the above circumstances, only that I was a little uncomfortable with the siuation. I decided against taking part in this production but wish it plenty of success. It's Rent – of course it'll be a success!
In the meantime, to keep me busy, I'm on the look out for informal tap classes. I don't want to pass an exam or get to grading point; I want to learn a routine and have a giggle in the evening! Which such classes being notoriously internet shy, do drop me a line at hello@ this domain name to tell me if you know of one.